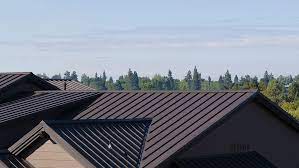 You're probably wondering why metal roofs have recently grown so popular in Florida for residential and commercial establishments. Worthmann Roofing, a reputable company providing metal roofing in Gainesville, FL, will discuss the definition, types, and benefits of metal roofing in this article.
Due to Florida's hot, humid weather, frequent hurricanes, and intense thunderstorms, metal roofing is an excellent choice for residential and commercial buildings. This resilient, cost-effective solution is preferred over traditional roofing materials.
If you're ready to replace your old roof with a metal one, you're in the right place. Worthmann Roofing offers superior roofing services in Gainesville, FL, with years of experience helping property owners and business owners. We provide expert workmanship, outstanding customer service, and a lifetime guarantee. We also offer roof inspection, repair, and cleaning in Gainesville, FL. Call us at (352) 472-3228 today for a free quote.
What Is Metal Roofing?
Metal roofing is a broad term for roofing products composed of various types of metal exhibiting corrosion resistance and impermeability to water. Because metal roofing has a long life span, it is a far better investment than traditional roofing.
What Are The Different Types Of Metal Roofing Materials?
Each type of metal roofing …