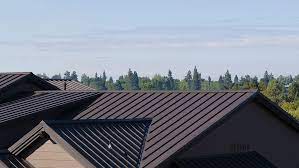 You're probably wondering why metal roofs have recently grown so popular in Florida for residential and commercial establishments. Worthmann Roofing, a reputable company providing metal roofing in Gainesville, FL, will discuss the definition, types, and benefits of metal roofing in this article.
Due to Florida's hot, humid weather, frequent hurricanes, and intense thunderstorms, metal roofing is an excellent choice for residential and commercial buildings. This resilient, cost-effective solution is preferred over traditional roofing materials.
If you're ready to replace your old roof with a metal one, you're in the right place. Worthmann Roofing offers superior roofing services in Gainesville, FL, with years of experience helping property owners and business owners. We provide expert workmanship, outstanding customer service, and a lifetime guarantee. We also offer roof inspection, repair, and cleaning in Gainesville, FL. Call us at (352) 472-3228 today for a free quote.
What Is Metal Roofing?
Metal roofing is a broad term for roofing products composed of various types of metal exhibiting corrosion resistance and impermeability to water. Because metal roofing has a long life span, it is a far better investment than traditional roofing.
What Are The Different Types Of Metal Roofing Materials?
Each type of metal roofing material has its unique advantages. Let's explore the common types of metal roofing materials.
Aluminum Roofing
Aluminum roofing is lightweight, durable, and corrosion-resistant, offering a higher strength-to-weight ratio than other metals.
Copper Roofing
Copper roofing is lightweight, versatile, and low-maintenance, but its high material cost makes it the most expensive metal roofing option.
Tin Roofing
Tin roofs are soft metals coated in tin and lead, offering affordability and more economical than comparable metals used in metal roof installation in Gainesville, FL.
Zinc Roofing
The materials used for zinc roofing are incredibly lightweight, corrosion-resistant, low-maintenance, and fire-resistant.
Metal or Steel Roofing
Steel roofs are popular due to their strength, durability, fire retardancy, and rust resistance, making them suitable for harsh weather conditions.
Metal Roof Benefits for Your Gainesville, Florida, Homes
Metal roofing offers unique longevity benefits, making it an attractive proposition for residential and commercial buildings in Gainesville, Florida. Here are some metal roofing benefits you should know about:
Metal roofs have a longer lifespan.
Metal roofs are a more durable option than any other roofing material used in Florida today. They will last you your whole life without needing to be replaced if installed by a reputable roofing company. If you think your property needs a metal roof and would like a free estimate, contact Wothmann Roofing, your most trusted metal roofers in Gainesville, FL.
Metal roofs are fire-resistant.
Metal roofs are non-combustible and protect homes from fires due to their ability to resist spreading and igniting flames. This makes them excellent for areas prone to thunderstorms, as they prevent lightning from striking and starting a fire. By switching to metal roofs, you can rest easily knowing your home will be fire-free.
Metal roofs can boost your home's curb appeal.
Metal roofing in Gainesville, FL, is a modern architectural feature with a sleek, sharp appearance that can add beauty to your property. Available in various colors that will complement multiple architectural roofing designs in Florida.
Metal roofs can increase the value of a home.
A metal roof can not only improve the aesthetic appeal of your house, but it can also increase its value when you sell it. Potential homebuyers will know your home is a great deal when they see it.
Metal roofs need little maintenance.
Metal roofs are durable, preventing cracks and corroding, and offer good impact resistance for your property against hail and wind-blown objects. You can save on repairs and require no annual maintenance, making them an attractive investment for those seeking a long-lasting and cost-effective solution.
Metal roofs are energy-efficient.
It is no secret that air conditioners can be expensive in Florida's hot summer. Metal roofs with high solar reflectance index ratings can help keep your home cool. However, the reflective index of steel panels can vary depending on your roof's color.
Contact Worthmann Roofing, a trusted metal roofing installer in Gainesville, to determine the right metal roof color for your needs.
Metal roofs are easy to install.
Metal roofs don't require a long and drawn-out installation process. If you want a quick turnaround time for your new roof, metal roofing is the best option. Metal roofs require lightweight panels that our metal roofing contractors in Gainesville can quickly and easily insert.
How Long Do Metal Roofs Last?
Metal roofs typically last between forty and seventy years. This varies depending on how much maintenance is performed on the roof over its lifetime. If your metal roof requires servicing, contact Worthmann Roofing for a free quote today!
What is the Average Cost of a Metal Roof in Florida?
The cost of a metal roofing system in Gainesville, Florida, varies based on factors like roof size, complexity, chosen material, and additional features like solar panels. To understand the cost, contact our friendly team for a no-obligation quote.
Do Metal Roofs Attract Lightning?
Metal roofs act as conductors, dispersing lightning's impact on the ground when combined with fire-resistant materials. They are noncombustible, ensuring they won't catch fire in the event of lightning strikes.
Are Metal Roofs Noisy?
Metal roofs are less noisy than traditional asphalt due to felt underlayment and a fire-retardant shield. With proper underlayment installation by our licensed Worthmann Roofing contractors, metal roofing systems reduce noise from extreme weather conditions, making them suitable for residential and commercial use.
Get a Free Metal Roof Estimate in Gainsville Today!
Now that you have a general understanding of metal roofing and its primary benefits, it is time to make the switch!
Worthmann Roofing and Gutters, a reputable local company, offers high-quality, beautiful, and long-lasting metal roofing for residential and commercial use in Gainesville, FL, and surrounding areas. Call us at (352) 472-3228 or visit this page to schedule a free roof inspection in Gainesville.